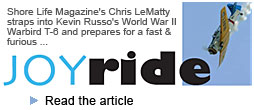 For a dazzling aerobatic spectacular Kevin Russo Airshows is the answer. . .a show that will have your audience oohing and ahhing! Dives, rolls and more from a decorated military and civilian pilot!
Kevin Russo also offers aerial tours in his T-6 Texan as well as in the A36 Bonanza. For more information please go to www.warbirdtours.com.
All Aerial Photographs taken by:

John Baert, Aviation Journalist/photographer
160 Cote Street
Deauville, PQ, Canada JIN-3N7
Phone/Fax: 819-864-9910
Gilles Auliard, I.A.P.A.
PO Box 31-0443
Newington, CT 06131-0443
Email:
IAPA@att.net
Phone: 1-860-614-4338
Fax: 1-860-436-4938
Gregory V. Witmer
302 Essex St
Coatsville, PA 19320
Email:
gwitmer@comcast.com
Phone:610-383-7295
Christopher H Photography
215 Medford-Mt Holly Rd.
Medford, NJ 08055
Brian J. Mensing
Email:
Planes15@hotmail.com
www.brian-mensing.com